TECHNOLOGY DEMONSTRATION

PROJECTS IN THE WATER

Test Centres and Demonstration Zones
Critical to enabling deployment of wave and tidal devices, especially those under R&D, is the provision of offshore test centres and demonstration zones. Several of those have seen devices being deployed and tested in 2018 whilst others are an earlier stage of development. A selection of these facilities is described below.
The European Marine Energy Centre (EMEC)
EMEC is a UKAS accredited test and research centre focusing on wave and tidal power development. Based in Orkney, an archipelago in the north of Scotland, EMEC has thirteen open-sea grid-connected test berths and two scaled test sites. Established in 2003, the centre provides a wide variety of test conditions, with a depth range of 1 to 51 metres and significant wave height average of two to three metres. A diverse environment allows testing in a multitude of seabed and shoreline contexts, and water-depths.

Wave Hub
Wave Hub is a pre-installed grid connected site approximately 10 nautical miles (16 km) off the north coast of Cornwall for the testing of large-scale offshore renewable energy devices. The site has a Section 36 electricity consent and holds a 25-year lease for eight square kilometres of seabed divided into four separate berths. Wave Hub is owned by BEIS and operated by Wave Hub Limited.

FaBTest
FaBTest is a 2.8 km2 test site at Falmouth Bay in Cornwall. The relatively sheltered location of the bay allows for smaller and concept devices and components to be tested. The pre-consented site, leased from the Crown Estate, has a six-metre tide range and six- to nine-metre significant wave height variance.

Marine Energy Test Area (META)
Marine Energy Wales are establishing a new test area in the Milford Haven Waterway in Pembrokeshire. The Area will comprise of a variety of sites with consent and grid connection, which will facilitate testing at component, sub-assembly and single-device stages. Development of the site will be informed by strategic advice provided by established test-centres EMEC and Wave Hub.

Morlais Tidal Demonstration Zone
The site in West Anglesey was primarily for its tidal resource and access to local infrastructure. Areas within the 37 km2 site are being sub-let for test and demonstration activities alongside some of the first array scale commercial projects. This is a £33 million project, which has recently been awarded £4.5m of EU and Welsh Government funds. Developers planning projects there include Orbital Marine Power.

DEMONSTRATION PROJECTS
This section is a non-exhaustive list of key projects tested, installed in the sea and operating in 2018.
MeyGen deployment (Source: SIMEC Atlantis Energy)

MeyGen
The MeyGen array is owned and operated by SIMEC Atlantis Energy in Scotland's Pentland Firth.

In December 2018, the MeyGen project confirmed it has surpassed 10 GWh of generation onto the grid since project commencement.

Around this time, the remaining two, of four, turbines were successfully redeployed following modification work in winter 2018.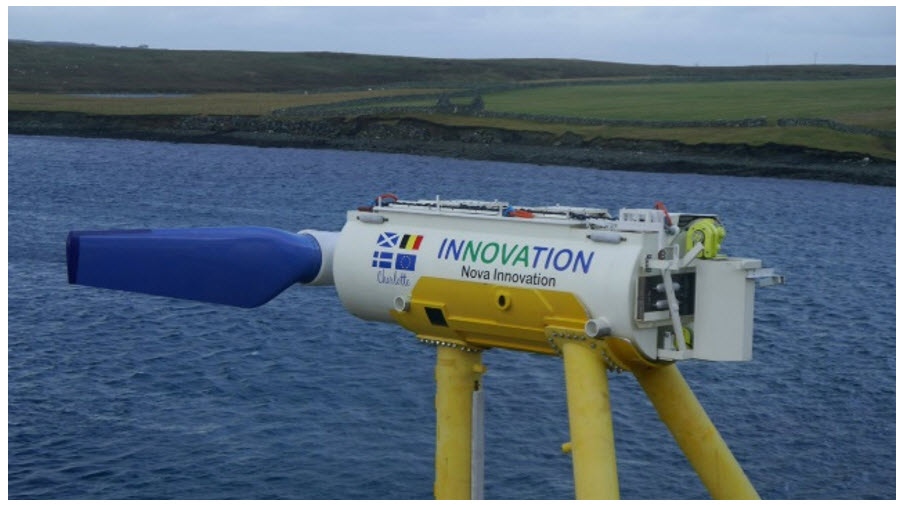 Nova Innovation Deployment, Bluemull Sound (Source: Nova Innovation)
Nova Innovation
Nova Innovation was granted an extension to their existing seabed lease by Crown Estate Scotland, significantly increasing capacity from 500 kW to 2 MW. This extension will enable Nova to progress their EnFAIT project with the installation of three additional Nova M100 turbines, each rated at 100 kW. This installation will double the generating capacity deployed at the site and increase the number of turbines in the water from three to six.

In October 2018, Nova Innovation installed a Tesla battery in the Shetland Tidal Array to create the world's first baseload tidal power plant, capable of providing predictable, controllable and renewable power to the grid.
CorPower Ocean C3 deployment at EMEC (Soure: CorPowerOcean)

CorPower
CorPower deployed their half-scale C3 device and demonstrated 18 months of combined dry and ocean testing, completing the Stage 3 demonstration programme mid-year at EMEC Scapa Flow scale test site. EMEC oversaw testing in dry and wet conditions and provided verified quality control and assurance services at each stage.

In partnership with EMEC, CorPower will feed the results from these tests into their WaveBoost project, improving their upcoming technology developments.
Marine Power Systems
Swansea-based wave developer Marine Power Systems (MPS) built their 10 kW WaveSub device in Pembroke Dock and are currently finalising tests in FaBTest, Cornwall. This was a £5.5 million project, which has received £3.5 million WEFO & Welsh Government funding. More recently, MPS are underway on the next phase of the WaveSub development, which will also be built in Pembrokeshire.




Orbital Marine Power's SR1-2000 device (Source: Orbital Marine Power)

Orbital Marine Power
Tidal developer Orbital Marine Power continued testing of their first full commercial scale machine, the SR1-2000 2 MW twin rotor floating tidal turbine at the site.

In 12 months of continuous operation, the machine supplied 3 GWh - at times over 25% of the electricity demand of the Orkney Islands.
Minesto DG500 being deployed at Holyhead Deep, Wales (Source: Minesto)

Minesto
In 2018 Swedish tidal developer Minesto built and deployed their commercial scale DeepGreen500 tidal kite off Holyhead, North Wales.

This project was supported by €13 million of European Regional Development Fund through the Welsh Government.

Testing of the DG500 will continue in 2019.
Wello Oy Penguin operating at EMEC Billia Croo test site (Source: EMEC)

Wello Oy
At EMEC's Billia Croo test site, Wello Oy's Penguin WEC marked its first year of deployment in March 2018 and continues to demonstrate survivability in weathering a number of storms and waves of over 18 metres.


PLANNED DEPLOYMENTS
This section contains a non-exhaustive summary of wave and tidal projects expected to be deployed in 2019 and early 2020.
Wave
Bombora Wavepower: Australian wave energy developer Bombora Wavepower set up their EU headquarters in Pembroke Dock, Wales at the end of 2017 and is now conducting a £20 million project to construct and test a 1.5 MW wave device off the coast of Pembrokeshire. Bombora secured a £10.3 million ERDF grant to support this project and now have a team of 18 staff based at Pembroke Dock.
Laminaria: Laminaria's 200 kW LAMWEC wave device will be deployed at EMEC's Billia Croo site in 2019. The surge point-absorber device's design includes a bespoke storm protection system, which will maximise survivability and optimise operability in all weathers. This has benefitted from MaRINET2 and FORESEA funding for test site access.
Wello Penguin: Wello's next generation Penguin WEC was deployed in Tallinn, Estonia throughout 2018 and will be relocated to EMEC for deployment next to the existing Penguin WEC in 2019. In November, a marine licence was granted for the installation, operation and decommissioning of the three-WEC array and the subsea hub at EMEC. Ultimately a three-device farm will be tested at EMEC.

Tidal
Instream Energy Systems: Manufactured and constructed by Leask Marine, Instream Energy Systems will deploy their surface floating tidal platform at EMEC in 2019. The 100 kW device will be the first tidal platform to be constructed at EMEC. The project is funded by Innovate UK's Industrial Strategy Challenge Fund.
Magallanes Renovables: Magallanes Renovables have completed construciton of their 2 MW floating tidal device and during 2018 it was located to Orkney. Final commissioning and installation will take place during 2019 at EMEC's Fall of Warness test site.
Nova Innovation: Nova Innovation plan to install three more M100 100 kW turbines alongside the three turbines currently in place at Bluemull Sound in Shetland. The first will be deployed in 2019 with the remaining two planned for installation in 2020, for extended operation and to understand array interactions across the six-turbine array.
Orbital Marine Power: In 2019 Orbital Marine Power will design and build their optimised production model, the Orbital O2 2 MW, for deployment at EMEC in 2020. The Orbital O2 is funded under Horizon 2020 FloTEC (Floating Tidal Energy Commercialisation), with funding from Interreg North-West Europe ITEG (Integrating Tidal Energy into the European Grid) for the moorings and actuation system. Orbital Marine Power also received £7 million of peer-to-peer Abundance investment in October 2018 to build the production model.
SIMEC Atlantis Energy: Project Stroma/Phase 1B of SIMEC Atlantis Energy's MeyGen project is to install an additional two Atlantis turbines uprated to 2MW each using larger diameter rotors and more powerful generators. Deployment is planned for late 2019 at the earliest subject to consents and funding with €16.8 million revenue support package already secured under the European Commission's NER300 programme. Project Stroma will lead into further phases of expansion up to about 400 MW of generation.
Tocardo: As part of the Horizon 2020 funded InToTidal project Tocardo's Universal Foundation System (UFS) floating tidal platform is planned to be deployed for testing at EMEC in 2019. The platform is capable of integrating five-turbines. While testing of the platform will initially use Tocardo's turbines, the platform is intended to provide a generic solution viable for any turbine model.