COMMUNICATION ACTIVITIES

Task 1 aims at communicating about the main findings of the OES programme through the most adequate communication channels.

The following main types of communication actions have been conducted
throughout the year:


PROJECT DURATION

Start Date: 2000
End Date: Permanent


COORDINATOR
Ana Brito Melo, WavEC Offshore Renewables (PORTUGAL)


PARTICIPANTS
All Delegates


FURTHER INFORMATION
Visit OES Website - Task 1
A video about ocean energy for the general public is available on the OES youtube channel.

The Annual Report is the flagship document of the OES and a marker for industry development. It includes detailed information from country members.

A Bulletin issued each semester, after each ExCo meeting presents most up to date information exchanged by the delegates: https://www.ocean-energy-systems.org/news-events/newsletter/

New publication launched in 2018. The brochure Spotlight on Ocean Energy was launched in 2018 providing insights of 20 ocean energy projects and 5 policy initiatives on the OES member countries.
MAIN EVENTS IN 2018 WHERE OES WAS PRESENT
The table below lists the main events in 2018, in which the OES was represented promoting the OES activities. In addition to these conferences, OES is organizing workshops in parallel with ExCo meetings or sponsoring workshops with different focused themes.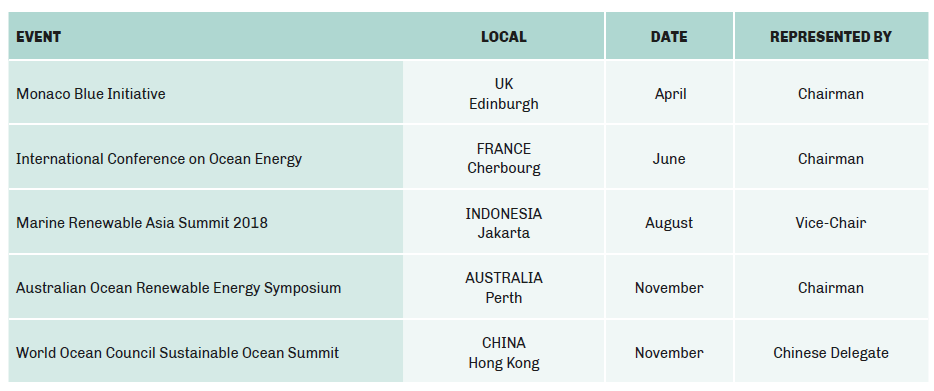 CLOSE LINK WITH ICOE

ICOE conferences are held every two years and focus on the industrial development of ocean energy. In 2018, ICOE was held in Cherbourg, Normandy, from June 12th to 14th in La Cité de la Mer (http://icoe2018normandy.eu/).
Past ICOE conferences have been held in Germany, France, Spain, Ireland, Canada and UK. The International Steering Committee of ICOE includes the Chairman of the OES. Further, several OES Delegates are also members of the Steering Committee.
In particular, the OES keeps past ICOE conference material on a dedicated website managed by OES (www.icoe-conference.com), providing the historical archive of all papers from previous ICOE conferences. All presentations at ICOE 2018 have been uploaded on this site.
The OES is also the organiser and supporter of a "student poster award" for the best posters at the ICOE conferences; in 2018 three researchers received a cash
prize.

COLLABORATION WITH INORE
INORE is a network for postgraduate researchers working with issues related to offshore renewable energy. The OES encourages this network and provides annual financial sponsorship for specific activities conducted by INORE, particularly to develop membership in new regions, including Asia and the Pacific. One example of supporting international collaboration work is the "International Collaborative Incentive Scholarships" (ICIS scheme), whereby pairs or groups of researchers from at least two different countries are awarded a small bursary to fund (usually travel) expenses that will allow a piece of work to be carried out at one of the group member's organisations.

More on INORE: https://inore.org/

COLLABORATION WITH IEC-TC 114

International Electrotechnical Commission (IEC) Technical Committee (TC) 114, Marine Energy – Wave and Tidal Energy Converters: OES has a formal liaison with this technical committee to develop international standards for wave and tidal energy technologies.

Dr Purnima Jalihal, delegate from India, has been nominated as the expert to coordinate, in particular, the collaboration with the working group "PT 62600-20 - General guidance for design and analysis of an Ocean Thermal Energy Conversion (OTEC) plant", on behalf of the OES. Further, a number of ExCo members serve as project leaders or participants in some of the TC114 working groups. Some OES tasks can provide technical information for future standards.
In 2018, the IEC Chairman, Jonathan Colby, was invited to give an overview of the IEC standards work in one of the ExCo meetings and discuss with the ExCo the benefits of a collaboration among both organisations.