SUPPORTING POLICIES FOR OCEAN ENERGY
The national strategy for ocean energy has built upon the Canadian Marine Renewable Energy Technology Roadmap which was launched in 2011. Provincially, the NS government developed the Marine Renewable Energy Strategy in 2012 and the BC government has an ocean energy land use policy, a marine energy atlas and is supporting the development of case studies for wave energy in BC communities. Progress continues towards achieving actions and goals identified by the roadmap, with industry and researchers implementing various activities out of necessity to advance the sector.
Over the course of 2019 the Government of Canada was focused on progressing and implementing a number of key priorities – several of which had relevancy to the marine renewable energy sector. on June 2019, the Senate passed Bill C-69, which included new legislation affecting the regulation of the energy sector and marine renewable energy – the Canadian Energy Regulator Act (CERA), the Impact Assessment Act (IAA), and the Canadian Navigable Waters Act. The Fisheries Act was also substantially amended. The new Canada Energy Regulator (CER) under CERA now has a mandate to cover emerging energy developments such as the regulation of offshore renewable energy.
The Geological Survey of Canada is currently conducting a review and assessment of seabed foundation conditions in the offshore regions of the Maritimes. The resulting report will summarize seabed composition, morphology, stability, and geotechnical properties, based on existing data. The report will be released publicly in 2020 and is expected to be useful for anyone considering future, marine renewable development projects.
In NS, the Marine Renewable Energy Act was acclaimed into legislation in 2018. This means that identified Marine Renewable Energy Areas (MREAs) are designated in the legislation and can be assessed and added to the legislation in the future. Going forward, there will be competitive bids for licenses to produce power in an MREA that will come with a power purchase agreement (PPA) and outside of the competitive process, power production permits can be allocated by the NS Department of Energy and Mines (NS-DOEM). Currently there are 10MW allocated to the permit program and 5MW was awarded to Big Moon Power in 2018. In the permit system the project proponent must propose a project and a PPA that can then be approved by the Minister of Energy and Mines. The remaining 5MW of power production are currently open for application.
The Geological Survey of Canada is currently conducting a review and assessment of seabed foundation conditions in the offshore regions of the Maritimes. The resulting report will summarize seabed composition, morphology, stability, and geotechnical properties, based on existing data. The report will be released publicly in 2020 and is expected to be useful for anyone considering future, marine renewable development projects.
MARKET INCENTIVES
Under the changes to Nova Scotia's Marine Renewable Energy Act, projects that receive a permit can also receive a PPA of up to 15 years at a price set by the Minister of Energy. Any utility in Nova Scotia will be required to procure all electricity under the PPA.
FORCE
Developers with projects at the Fundy Ocean Research Centre for Energy (FORCE) – Minas Tidal Limited Partnership, Black Rock Tidal Power, Atlantis Operations Canada, Halagonia Tidal Energy Limited, and Cape Sharp Tidal Venture – have approvals for Nova Scotia's Development feed-in tariff (FIT) for 53 cents/kWh and allows them to enter into a 15-year power purchase agreement with Nova Scotia Power, the provincial electric utility.
Province of BC

The clean energy act has a feed in tariff that exists in legislation but has yet to be implemented;

First Nations in BC have the right to negotiate PPAs for renewable energy projects, including ocean energy, with BC Hydro under the micro standing offer program;

BC Hydro will prepare a new Integrated Resource Plan in 2019 to incorporate new objectives for clean energy set forth by the BC government. It is anticipated that there will be opportunities for ocean energy projects in this new plan.


Province of NS

Feed in tariff program for projects at the FORCE site;

Permit and licensing program with negotiated PPA.
PUBLIC FUNDING PROGRAMS
A number of departments both federally and provincially contribute to the development of ocean energy in Canada. Energy ministries provide funding for projects and regulatory oversight, research fisheries, ocean and environment provide environmental and resource oversight and economic and knowledge development ministries provide incentives for hiring and training.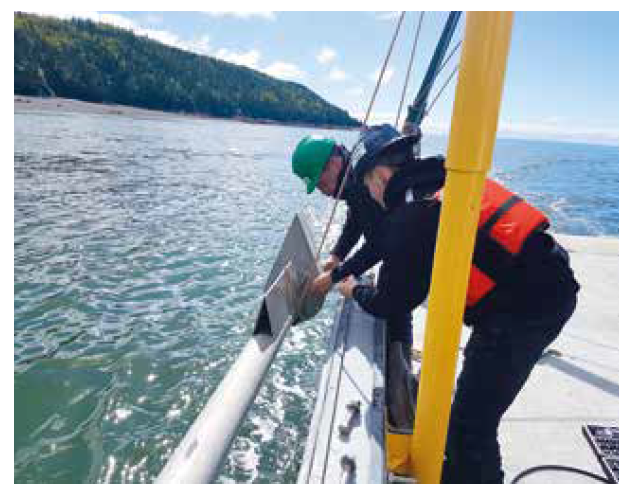 Because provincial governments have exclusive jurisdiction respective provinces, decisions regarding the development of ocean renewable energy resources (e.g. tidal, and wave) within provincial territory are made by each province. In some cases, determining the boundaries of a province in the offshore can be complicated. If the definition of a province's boundaries explicitly includes an area of the offshore, then that offshore is within the boundary of the province. Absent this explicit definition of a province's boundary, the general rule is that the low-water mark along the coast marks the provincial boundary. This general rule is further modified by the principle that inland waters are also within a province. Inland waters typically include harbours, bays, estuaries and other waters that lie "between the jaws of the land." Seaward of these boundaries, provinces do not have property rights in the territorial sea. The federal government has the property rights seaward of these boundaries.
Ocean renewable energy represents a unique circumstance in Canada in that there is the potential for electricity projects to be situated in areas outside of the territory of a province, in marine areas under federal jurisdiction. In these circumstances, it is the federal government that is responsible for making decisions regarding the administration and regulation of ocean renewable energy activities.
Regardless of where an ocean renewable energy project is situated, and consequently which level of government is responsible for the allocation of rights and permits, a number of federal regulatory approvals are likely required. This stems from the federal government's responsibility over a number of issues in all areas of Canada's offshore, including fisheries, navigation, and certain environmental issues.
With a view to support the Pan-Canadian Framework on Climate Change and Clean Growth as well as the Federal Government's Innovation and Skills Plan, the Federal Government outlined $2.3 Billion of investments in 2017 to support clean technology innovation and adoption. 2018 focused on implementing these funding investments.
Included in these investments was funding to create a Clean Growth Hub that would serve as a whole-of-government focal point for clean technology. The core function of the Hub, established in early 2018, is to help clean technology innovators and adopters identify federal funding and services for which they may be eligible. The Hub is co-chaired by Natural Resources Canada (NRCan) and Innovation, Science and Economic Development (ISED) and currently includes fourteen other federal departments and agencies whose mandates are supported by Canadian success in clean technologies. The Hub is well positioned to assist entrepreneurs and adopters of ocean energy systems identify potential funding to the specific needs of the project.
In 2019 a new program was introduced – Breakthrough Energy Solutions Canada. In partnership with Breakthrough Energy, Natural Resources Canada (NRCan) launched a $30M call for proposals aimed at leverage financing and expertise to support the advancement of Canadian clean energy technologies that can significantly reduce greenhouse gas (GHG) emissions. Breakthrough Energy Solutions Canada also partnered with the Business Development Bank of Canada (BDC), allowing cohort projects to benefit from BDC's experience as well as a further investment of up to $10M for successful cohort companies.
In 2018, several funding programs were open to (but not exclusively dedicated to) support ocean energy such as Natural Resource Canada's Clean Growth in Natural Resources Program ($155M/4 years to support RD&D), Emerging Renewable Power Program ($200M/5 years) and the Clean Energy for Rural and Remote Communities Program ($220M/6 years). These programs were aimed to help develop and support innovation for clean energy technologies across Canada.
Ocean energy technologies that were closer to commercialization, have been eligible for funding from Sustainable Development Technology Canada (SDTC), and Global Affairs Canada (GAC), and increased financing support through the Business Development Bank of Canada (BDC) and Export Development Canada. These government corporations offer programs to help de-risk projects for Canadian companies and projects. SDTC offers funding for 1/3 the cost a project usually in the range of $3M. Global affairs offer a number of programs including assistance with attracting investors. BDC and EDC offer ways to reduce risk on companies in financing and exporting through a number of programs including direct financing and insuring international purchase orders.
In November of 2018, the federal government unveiled the winners of the Innovation Superclusters Program which included committing $950M to five industry consortiums, including Canada's Ocean Supercluster (OSC). This industry-led collaboration seeks to build Canada's ocean economy into a significant and sustainable value-creating economic segment and $153m federal funding was announced for the OSC. It is built around a critical mass of ocean-based companies in Atlantic Canada and includes partners that span the ocean economy including marine renewables. Emera Inc., a long-time supporter of tidal power is an industry leader in the OSC.
$29.8Million in the HTEL project through the Emerging Renewable Power Program in support of its $117-million 9 MW instream tidal project in FORCE site, Nova Scotia. The Canadian government also invested $1.5M for ocean technology and tidal research projects funded through the Offshore Energy Research Association (OERA) of Nova Scotia and $725k in wave energy projects in BC.