Research activities across Canada have encompassed environmental monitoring and technology development, resource assessment, power extraction technology demonstration and optimisation, numerical modelling and small-scale testing.
Regional research organisations support research in ocean energy and partner with industry and academia to move the state of the art forward.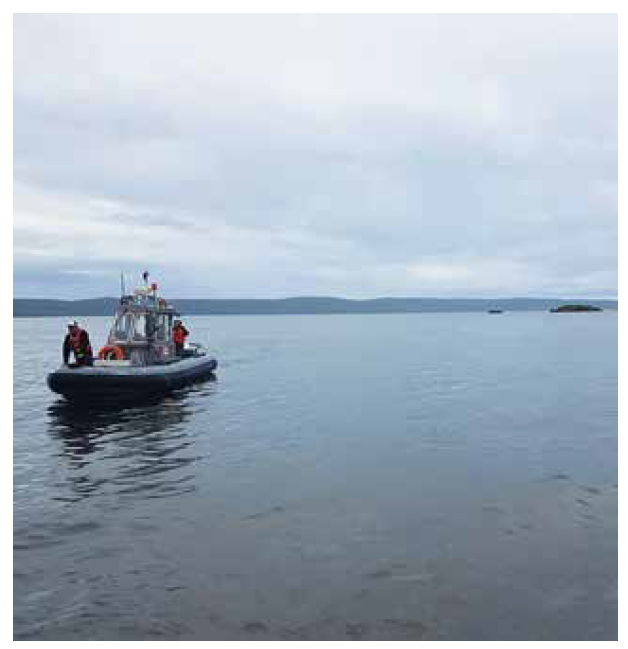 Fish and Shoreline Surveying, FORCE, photo credit: FORCE
OERA
OERA secured federal funding from Atlantic Canada Opportunities Agency (ACOA) and NRCan that was allocated to ocean technology and tidal energy. This enabled OERA to support 34 projects that were completed over a range of subject areas.
Active projects supported by OERA also under the themes of environmental monitoring, marine operations or cost reduction technologies include:
a turbulence study and a fish tagging study at Acadia University;
a marine operations study at Nova Scotia Community College (NSCC);
lobster study with Big Moon Power;
ROV use in tidal environments, NSCC;
a fish and turbulence study led by FORCE.
Projects had in total 66 students working on tidal power research in 2018 and the cumulative total of $2.6M in funds offered by OERA for all the active projects was leveraged to reach an overall total of $6.5M in funding for tidal power related projects in NS. OERA will continue to offer its open call program in 2019 and expects additional funding programs to be announced throughout the year.
FORCE
Since the commencement of FORCE's latest monitoring efforts in May 2016 to the end of 2018, FORCE has completed:
approximately 2,600 'C-POD days' (marine mammal monitoring days);
408 hours of hydro-acoustic fish surveys;
11 days of lobster surveys using 32 traps;
four drifting marine sound surveys and additional sound monitoring;
42 observational seabird surveys; bi-weekly shoreline observations;
commenced a drone survey initiative and;
supported ongoing fish tagging efforts.
FORCE has led multiple sensor platform deployments through the Fundy Advanced Sensor Technology (FAST) Program. This year, focus was on testing a cabled system with multiple environmental sensors known as the FAST-Environmental Monitoring System. FORCE also hosted several events and workshops. In 2018, FORCE welcomed over 3,000 guests to the Visitor Centre.
Work with Acadia University resulted in the installation of a second radar on Cape Sharp headland, which will be combined with the pre-existing radar to provide a view of the full Minas Passage and allow for both monitoring of the sea state and vessel activity. This work supported a master's student in 2018 who assessed surface currents using the radar data.
CHTTC
The CHTTC worked on the following projects in 2018:
Underwater connection for river turbines that can work in winter;
Flow measuring buoy on a mooring line;
Solar inverters for power electronics for hydro kinetic turbines;
Assessment of the hydrokinetic resource using Radarsat 2.
WCWI
The WCWI of UVic is focused exclusively on wave power and focused on the following activities in 2018:
Coastal modelling; Resource analysis;
Low TRL performance evaluation;
Technical Performance Level (TPL) work;
Government engagement;
Continuing education and updating state of the art to relevant organisations.
Acadia Tidal Energy Institute
Recent projects are focused on fish studies, bird studies, resource analysis, socioeconomic studies, social license and collaborations with other universities, institutes and industry and include:
Nova Scotia small tidal test centre gap analysis and business case;
Floating hydrophone study;
Community impact of tidal projects;
Projects on Environmental Monitoring, Modelling and Forecasting for instream tidal power;
Workshop on turbulence in tidal sites.
Wave Energy Research Centre, NL
The centre currently has a five-year project focused on developing an economical wave powered pump to deliver water to an on-shore aquaculture farm.
Collaborations
CHTTC in collaboration with New Energy Corp. and Sagkeeng First Nation community in Manitoba to deploy a vertical axis turbine of 25kW;
The Plat-I by SMEC was outfitted with acoustic and optical sensors to complete required monitoring of the tidal environment in the Bay of Fundy. The organisation Sustainable Ocean Applied Research (SOAR), completed the work and contributed environmental monitoring research;
WCWI of UVic partnered with Orsted to deploy an Ocean Sentinel monitoring platform in 2019 to monitor the pacific coast wave environment and assess the resource.
CanmetENERGY / NRCan and National Research Council (NRC)
Marine energy resources atlas for province of BC is completed and will be launched in 2019. This atlas provides a comprehensive assessment of tidal, wave and river hydrokinetic energy resources throughout BC. It has assembled a geo-spatial database containing best-available information on wave, tidal and river hydrokinetic resources combined with other relevant socio-economic datasets and develop a specialized geo-spatial analysis, mapping and decision support system to support and inform stakeholders in identifying and evaluating sites for prospective development.
NRCan in continuing collaborative research projects in advancing river hydrokinetic energy with NRC, academia, marine energy industry and Canadian Hydrokinetic Turbine Test Centre. Methodology to identify potential sites in a river stretch using radar satellite images taken during winter months where fast flowing river sections in Canada are not likely to freeze is progressing and will be validated in coming year.
Scale model testing of vertical axis have been completed to validate numerical model to investigate multiple turbine array interactions and spacing between turbines. Number of turbine configurations simulations have been performed and this has improved understanding in how to optimize energy extraction from a stretch of river resource. Ultimately, aim is to develop guidelines for river hydrokinetic turbine array configurations.