RESEARCH & DEVELOPMENT
MOF has been supporting two construction projects of the open sea test sites for WECs and TECs. The construction project for WECs started in May 2016 and will be finished in December 2019. The western waters of Jeju Island were selected as the test site, and the existing Yongsoo OWC-tyep WEC is utilized as the first berth for OWC-type WECs and also as the offshore substation for the open sea test site. KRISO has been in charge of developing the project and the total budget is about USD17.3 million. Four more berths, two in shallow water in 15 m water depth and two in deep water in 40-60 m water depth, have been connected to the offshore substation and the grid system with the total capacity of 5 MW. The offshore cables were installed in 2018. The floating pendulum wave energy converter (FPWEC), with the capacity of 300 KW, was connected to the fourth berth with 40 m water depth in 2018. The fifth berth with 60 m water depth is expected to be used for floating offshore wind turbines as well.

Open sea test site for wave energy converters (left).

Installation of offshore cables nearby the existing OWC WEC (right).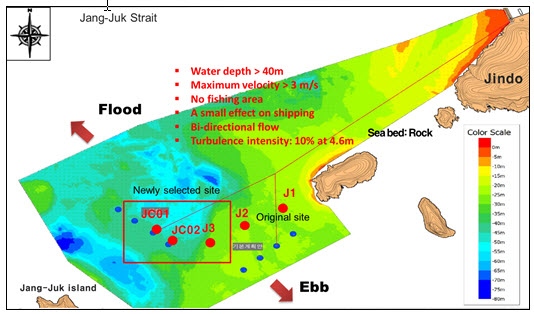 Possible two arrangements for 4 Test berths
The construction project for open sea test site (i.e. Korea Tidal Current Energy Centre, KTEC) with 5 berths of 4.5 MW grid-connected capacity for TECs is being carried out from May 2017 to December 2022 by KIOST. Furthermore, the onshore performance test facilities for components of TECs, such as blade and drive train, will also be constructed in this project. The southwestern waters of the Korean Peninsula are primarily considered as the tidal energy test site, where the Uldolmok tidal current pilot plant (TCPP) is operating nearby. Uldolmok TCPP will be utilized as the test site for small and medium size TECs under 500 kW due to the limited water depth about 25 – 30 m. Several possible arrangements of test berths in JangJook Strait were studied in 2018, and a newly selected arrangement was confirmed to have better condition with sufficient water depth.