TECHNOLOGY DEMONSTRATION

PLANNED DEPLOYMENTS

AW-Energy
AW-Energy has granted funding from the EU Horizon2020 programme (MegaRoller project) for development of a Power Take-Off unit for a 1MW device. The project started in May 2018 and will run until 2021, with a total of €5 million funding. Two Portuguese partners integrate the consortium, WavEC and Cruz Atcheson, with other partners from Finland, Germany and Norway.
WaveRoller is a submerged wave energy converter based on a hinged panel that is attached to the sea bed in the near shore area. It generates electricity from the movement of the waves (surge phenomenon) and is connected to the electric grid onshore.
AW Energy's First-of-a-Kind (FOAK) WaveRoller, which has been fully licensed in 2017, is currently in its final stage before deployment along the coast of Peniche, in Portugal.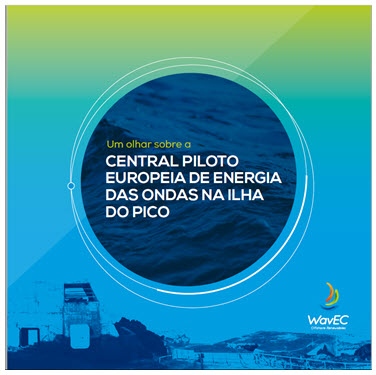 Pico Plant book
Pico Plant
Pico Wave Power Plant, at Azores, on the island of Pico, was disconnected from the network on April 17, 2018 due to the partial collapse of the plant. The project to dismantle the plant had already been started, being prepared by both Portuguese utilities, EDA and EDP.
Pico Plant has made a very valuable contribution to the promotion of wave energy research, development and innovation, both at national and European level and internationally, attracting more than 11 national and European projects. Pico Plant was part of two European networks of test infrastructure for wave energy technologies (MARINET AND MARINET2), promoting the access of international teams to the plant. The plant originated more than 100 international scientific articles and was associated with more than 8 doctoral theses and numerous master's theses and scientific internships.
In 2018, a book with the story of the plant and testimonies from those that visited or worked at the plant was published by WavEC (in Portuguese): https://www.wavec.org/contents/reports/brochura-central-do-pico-2018.pdf