RESEARCH & DEVELOPMENT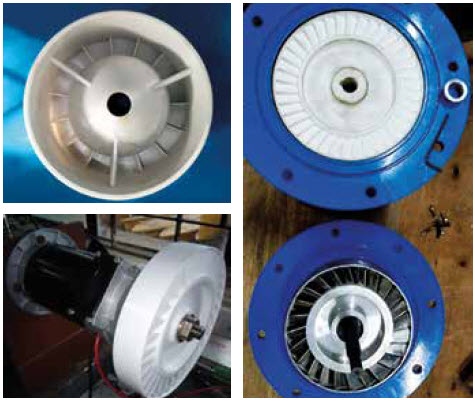 Unidirectional turbine (left). Bidirectional turbine (right).
NIOT has been working on Oscillating Water Column (OWC) principle based wave energy devices for some years. Continuing the ongoing development on the wave powered navigational buoy, NIOT team has successfully demonstrated an all weather floating wave powered navigational buoy using wave energy for powering a beacon lamp on the top of the buoy and oceanographic sensors. The buoy has been continuously operating for several months near the navigational channel of Kamarajar Port, in Chennai, India. Measured oceanographic parameters have been hourly transmitted to port authorities through GSM communication.
Both unidirectional and bidirectional impulse turbine for wave energy devices have been tested in open sea trials of wave powered navigational buoy for their performance evaluation. The performance of the bidirectional turbine developed in collaboration with Indian Institute of Technology, Madras (IIT-M), is being compared with that of the unidirectional turbine.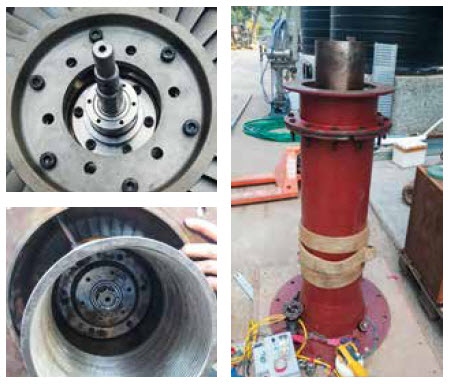 Open Cycle OTEC turbine for laboratory studies

Experimental studies on various components of Ocean Thermal Energy Conversion (OTEC) and Low Temperature Thermal Desalination (LTTD) have continued in the recently established laboratory at NIOT, Chennai. The plant can be operated for the Open Cycle OTEC, Closed Cycle OTEC as well as Desalination in various seawater temperature scenarios. The laboratory is equipped with a comprehensive supervisory control and data acquisition (SCADA) system.
The design and several activities for the project on establishment of the OTEC powered desalination plant in Kavaratti, Lakshadweep Islands, have been initiated.