TECHNOLOGY DEMONSTRATION


PROJECTS IN THE WATER
DanWEC (www.danwec.com)
The test site facility DanWEC is located with an offshore test site facing the North Sea (Hanstholm) where several Danish concepts have been tested and a more sheltered site in Nissum Bredning is also part of the DanWEC portfolio offered to testing in smaller scale.
Wavepiston
The testing of the Wavepiston prototype started in 2015 at the DanWEC test site with several development iterations increasing the energy production and durability in each iteration.

The first prototype tested was a 150-m string, which in the first iteration was equipped with 2 energy collectors, each fitted with a 4 m2 plate. In the second and third iteration another 4 energy collectors were fitted with a 7 m2 plate each. In the current 2018 iteration the string is 100 m. Four energy collectors have been tested each with an 8.5 m2 plate and there is the possibility to test up to 6 energy collectors. Different storm protection systems are tested on the energy collectors.

The storm protection system reduces the plate area when forces get too big. Data from the loads and the energy production is collected on a computer on the inner buoy and uploaded to a server every 6 hours. The data on the collected energy is analysed and compared to the predictions from the Wavepiston Energy Tool developed in collaboration with the Technical University of Denmark.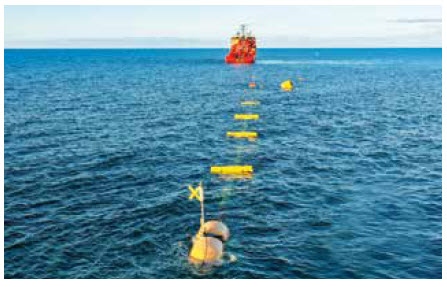 Rated Power: 12 kW
Length of string: 100 m
Number of energy collectors: 6
Plate area (energy collector): 8.5 m2 (app. 3 m x 3 m)
Water depth: 26 m
Significant wave height (Hs): 0.5 – 8.0 m
Peak wave periods TP: 3 – 7.5 s.
Extreme: HS 8.2m and Hmax 15 m
Ocean current max 1.6 m/s




Crestwing
Crestwings prototype Tordenskiold was launched in Kattegat in autumn 2018, northeast of the islands of Hirsholmene, in Frederikshavn Municipality. Tordenskjold will be tested in Kattegat as a suitable scaled ocean to confirm the reliability of the mooring at sea and confirm the expected production of energy. The plant will be tested in this position through the year 2020.

It has taken Crestwing 14 years and about 30 million DKK to get to the point of a prototype that can easily be scaled up and produced. Crestwing expect to produce energy at a kWh price, which corresponds to the production of other renewable energy types. The data from the testing of Crestwing prototype will be analysed by NIRAS in co-operation with DHI.
Rated Power 20 kW
Length of float: 30 [m]
Width 7,5 m [m]
Weight 65 [ton]
Water depth of 20 [m]
Significant wave heights HS: 0.5 – 1.5 m
Peak wave periods TP: 3 – 5.5 s.
Extreme: HS m and Hmax of 3 m
https://crestwing.dk
WEPTOS
The scale testing of WEPTOS in co-operation with AAU was deployed in July 2017and completed in October 2018. The deployment location was in Lillebælt between Jutland and Fyn in Denmark, north of the small island Brandsø. The test results are presented in Proceedings of OMAE2018 conference 17-22 June 2018, Madrid, Spain. In wave conditions with Hm0 = 0.27 m and Te = 2.11 s, and the maximum and mean power within the 15 min measurement period was 1805 W and 335 W measured on one "leg". The project had financial supported from the R&D programme ForskEL.
Rated Mechanical Power 2*3 kW
Length Sum of widths of rotors 2*11 [m]
Rotor width. 1.1 [m]
Rotor diam. 0.9 [m]
Water depth of 10 m.
Significant wave heights HS: 0.25 – 1.25 m
Peak wave periods TP: 2.0 – 3.5 s.
Extreme: HS 2.4 m and a maximum TP 5.0 s
http://www.weptos.com/
PLANNED DEPLOYMENTS
Projects under development planned to be soon deployed in the sea:
Nemos plan for tests at DanWEC Hanstholm 2019.
WavePiston plans to continue testing at DanWEC Hanstholm 2019.
ResenWaves expects tests in 2019 in Nissum Bredning.