TECHNOLOGY DEMONSTRATION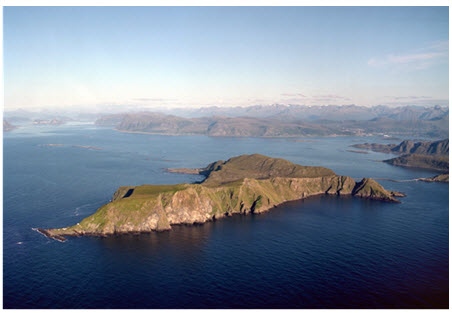 Runde Island on the Norwegian west coast where Runde Environmental Centre (REC) is located
Runde Environmental Centre (REC), located on Runde Island on the Norwegian west coast (http://www.rundecentre.no), can accommodate WEC plants for test and demonstration at several sites. One has a 3 km/0.5 MW sea cable to shore with grid connection. REC facilitates preparations, licensing, deployment and monitoring of the WECs, and works also on other forms of ocean energy, building national competence and capacity.
REC hosts other sub-sea tests, for anti-corrosion and anti-fouling. In 2016, a new bathymetric dataset, with 1x1 m resolution was released by REC, for public use. This unique material is very useful when it comes to licensing and siting of OE devices in the area. The same applies to the wave forecasting model installed, in co-operation with the Norwegian met office.
PROJECTS IN THE WATER
The first operational, grid connected wave energy buoy project in Norway was launched on 2 June 2017. The Swedish technology company Waves4Power has developed and produced a 100 kW energy converter, which is currently undergoing long term grid connected testing at the Runde Environmental Centre (REC). The anchored buoy, Wave-EL, is connected to a stand-alone buoy-mounted transformer. The transformer is readied for additional 9 connections, and so a powerplant-sized future demonstration is technically feasible.
Fred Olsen BOLT Lifesaver is undergoing a second round of tests at the US Navy's Wave Energy Test Site (WETS) on Hawaii, to power an oceanographic sensor package.
PLANNED DEPLOYMENTS

Norwegian Ocean Power has been developing a tidal device using a Darieus-turbine H300A of 300 kW and they have now permission to install their prototype in Lofoten.